Description
You can buy this plugin here: CodeCanyon
You can see live previews here: http://wpsoftdev-wcpca-demo.wpsoftdev.com/navigation-menu-demos/ , http://wpsoftdev-wcpca-demo.wpsoftdev.com/blog-with-demos/ ,  http://wpsoftdev-wcpca-demo.wpsoftdev.com/ .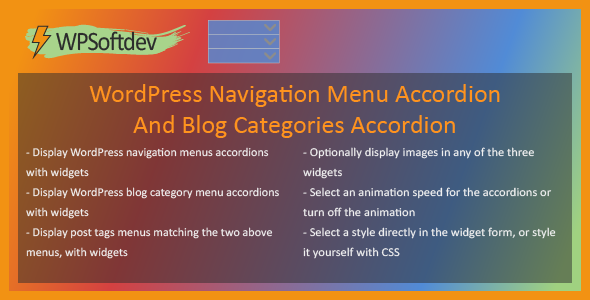 This is a WordPress navigation menu accordion and blog categories accordion plugin.
This plugin allows you to display WordPress navigation menu- and blog category menu accordions with two different widgets. It also includes a widget for displaying a list of tags, with a design matching the two others. All three widgets can display images, which are chosen in the admin pages.
The navigation menu widget highlights all current blog categories, WooCommerce product categories, blog tags, WooCommerce product tags, as well as all menu items linking to pages or custom urls. The ancestor lists to these highlighted items are automatically open at page load.
The plugin comes with four styles, a light, dark, blue and white one. The design outputs larger child-categories for navigation menus and blog category menus for mobile widths, and the breakpoint can be set in the widget form.
Support is provided through our website support form.
Features
Display WordPress navigation menus accordions with widgets
Display WordPress blog category menu accordions with widgets
Display post tags menus matching the two above menus, with widgets
Optionally display images in any of the three widgets
Select an animation speed for the accordions or turn off the animation (a default setting will be used if the widget is in a widget group)
Select a style directly in the widget form, or style it yourself with CSS
In navigation menu accordions, optionally print post counts for blog categories, and product counts for WooCommerce product categories and WooCommerce product tags
Option to print post counts in the blog categories accordion and tags menu
Show or hide empty blog categories or tags in the blog category widget and tags widget
The current menu item or all current menu items that the current page belongs to are highlighted
Optionally disable parent links in the accordion widgets (a default setting will be used if the widget is in a widget group)
Right to left text feature
Toggle mode option for the accordions
Change Log
1.0.2 2022-09-22
Fixed a bug where the settings of all menus and/or pages other than the displayed one, in the image selection admin pages, would be lost when saving
1.0.1 2022-08-15
Removed the activation form for the plugin. Plugin updates will in the future be available on CodeCanyon.net
1.0 2022-07-09
The first stable version of this plugin